Guest Reviews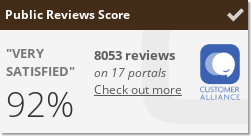 4.6

/5
2014-12-14
private
Age
70
Excellent.
4.8

/5
2014-12-11
business
Age
30
10 points
4

/5
2014-11-23
private
Age
60
Thank you for recommending a restaurant of the town. We enjoyed our stay.
4

/5
2014-11-08
private
Age
40
Overall a very good experience
4

/5
2014-11-07
private
Age
50
I stayed there twice in past two months, the first time was very good, whereas the second time it was a disaster. The Mandala hotel lost me as future client.
4.5

/5
2014-11-06
private
Age
20
I had a wonderful stay . Thanks
4

/5
2014-11-04
private
Age
30
Good stylish Hotel and in a very good location. I would rate it as a good 4 star as the true oustanding elements which a great 5 star offer aren't found at Mandala at th moment. No iron board neither tooth brush which put me in a difficult position for my one night stay in Berlin. The Hotel needs to work out to give this house a soul as it dosn't have a big lobby or gathering point. Enjoyed the stay but wouldn't pay the money again for what was offered.
4.3

/5
2014-11-02
private
Age
50
Very good hotel
4.6

/5
2014-11-02
private
Age
40
Will definitely return to the Mandala on my return to Berlin.
4

/5
2014-10-29
private
Age
30
We felt be welcomed warmly. Very gentle, educated staffs. Although facing big street, very quiet and relaxing. Want to stay again.
5

/5
2014-10-21
private
Age
50
Both my wife and I were elated at the fact that we were fortunate enough to be able to find and spend time in the Mandala Hotel, Berlin. However, it was a most unauspicious start because of the taxi trip to the hotel but this was quickly erased when the concierge greeted us with a positivity and warmness, which was perpetuated throughout the hotel that set the scene for a comfortable and memoerable stay throughout the duration. The rooms were well appointed and the service was of the highest standard. Denuda, who cleaned our room, was a wonderful acquisition to the service team who would always greet you daily with a smile. The bar was place to relax in the intimacy and ambience of a well run hospitality area. Daniel and his team were always ready to share time to talk and help us feel a real' sense of belonging. There was never any preconceived judgements about the status of the clientele! The people who were at the front desk were competent and impeccable in the way they conducted themselves. They were affable and of service to us. Thanks for a great stay and look forward to boasting to Australia about our stay in the Mandala.
4.7

/5
2014-10-18
private
Age
60
Perfect
4.8

/5
2014-09-30
private
Age
50
Room was very clean, staff excellent, breakfast great & location was exceptional, especially for 1st time being to Berlin.
5

/5
2014-09-22
private
Age
40
my hotel in Berlin
4.8

/5
2014-09-21
private
Age
50
A great hotel, great location, great staff, fabulous service - will return again
4.2

/5
2014-09-20
private
Age
50
Excellent for location and room quality.
3.6

/5
2014-09-19
private
Age
30
I was charged for minibar items I did not use
4.4

/5
2014-09-15
private
Age
50
Excelent
4

/5
2014-09-13
business
Age
20
Generally good. Some minor faults with service showing lack of experience of waiters in the restaurant and lobby staff. Also room service menu limited with prices too high, which are not in line with food quality. However rooms and facilities are excellent and will definitely return again.
4.4

/5
2014-09-11
business
Age
50
All is OK